Manufacturing Services
Screw and Barrel Manufacturing
Your specifications or our custom design from 4140 steel and other special steels and alloys including 300 and 400 series stainless Monel, Inconel, Hastelloy and Duranickel. Our capacities range 1 to 24 inches in diameter and to 40 feet in length.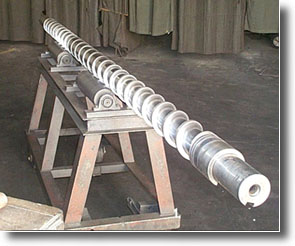 We can handle the biggest of jobs!

Screw Performance...
MIGRANDY Delivers !
Extrusion Screw Manufacturing, Screw Rebuilding, Screw Design and Rebuilding, Plastics Industry Components Support

Migrandy Corporation
675 Cypress Drive
Merritt Island, Florida 32952
Phone 321-459-0044
Toll Free 1-800-327-0943
Fax 321-459-2641